If you like cricket, you have most probably heard of The Indian Premier League. It is the most popular cricket tournament anywhere in the world. Since its beginning in 2008, it has changed the way T20 cricket is perceived. Cricket fans from all across the globe must have watched at least one season of the tournament and continue to follow it. Fans eagerly wait for the next season to enjoy the thrill and support their favorite teams and cricketers. As cricketers from all over the world participate in IPL, there is plenty of diversity in teams. 
Every cricket fan is eager to know the latest news regarding the IPL, but many are keen on knowing its history too. Over the course of 14 seasons, we have seen some intense competition between teams. This has resulted in entertainment that keeps viewers at the edge of their seats. Every season of IPL has 8 teams, but the 15th season is set to have 10 teams battling it on the field. As much as the T20 format is fast-paced with a focus on scoring a lot of runs, there have been teams who have failed to rank high on the scoreboard. So, you must be curious about what the lowest IPL score is. Keep reading to find out.
Here are the lowest scores ever scored in IPL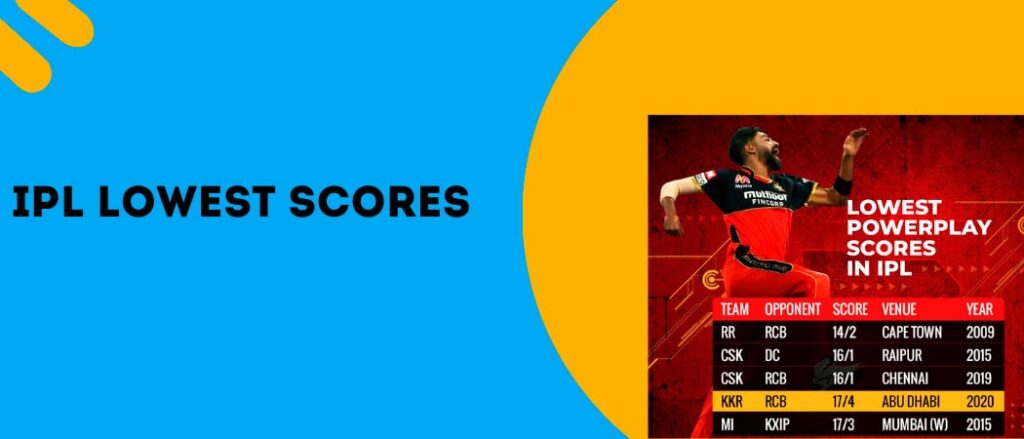 RCB vs KKR: In one match held in 2018 between Royal Challengers Bangalore and Kolkata Knight Riders, RCB scored the lowest score ever in IPL. The team was able to fetch only 49 runs against KKR. This is one of the most discussed matches of the IPL. RCB contained KKR's score to 131, but their batting lineup was quickly sent back to the pavilion by KKR's bowlers.
RR vs RCB: The second lowest in the history of IPL was scored by Rajasthan Royals against Royal Challengers Bangalore, in 2009. In the second season's second match, RR managed to keep RCB's score within 133 runs. But RR's batting line-up failed to impress and was all-out with just 58 runs to their name.
DC vs MI: In 2017, Delhi Daredevils (now Delhi Capitals) failed to perform well against their rivals, Mumbai Indians. Not only did Mumbai Indians score over 200 runs in that match, they also managed to crush DC's batting lineup in the second innings, leaving them with just 66 runs. DC had to face this downfall just a couple of days after scoring 67 runs against Kings XI Punjab.
KKR vs MI: In the first season of the IPL, Kolkata Knight Riders faced Mumbai Indians in the 38th match. KKR started off strong but lost its win streak midway in the tournament. When faced with stiff competition from Mumbai Indians, the team was able to score only 67 runs after 15 overs. This was a very easy target for the batting lineup of MI. S Jayasuriya alone scored 48 runs off 17 balls in that match, making it look like child's play to win the match.