Sachin Tendulkar was the first cricketer in history to score 200 runs in an ODI. He achieved the desired milestone in a day-night encounter against the South African cricket team in Gwalior in 2010.
The Master Blaster had achieved this incredible feat in the second ODI of the home series. The record-breaking innings, which came off 147 balls, featured 25 boundaries and three maximums.
India scored 401 runs and the Proteas were bowled out for 248 runs, giving the hosts a comfortable 153-run victory.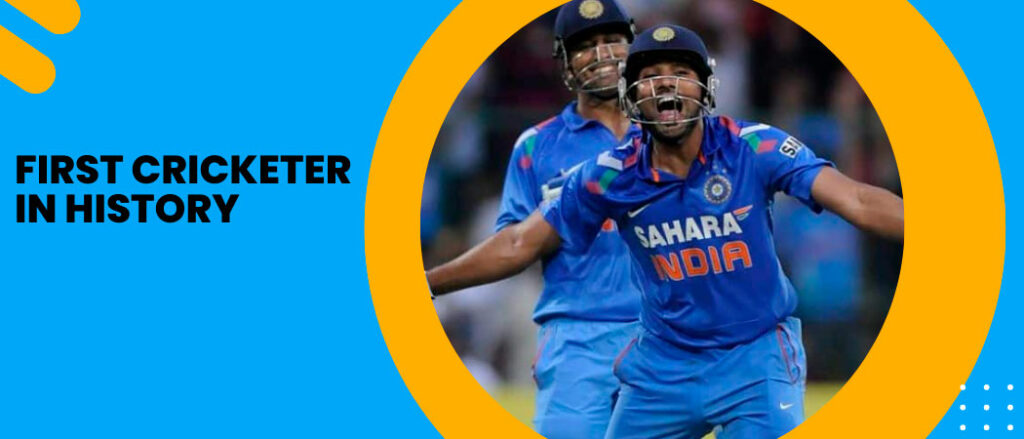 Sachin Tendulkar finished his career with 18,426 runs in 463 ODIs, including 49 centuries and 96 half-centuries. He also holds the record for the most One-Day Internationals played and the most runs scored. Tendulkar also holds the record for the most Man of the Match honors (63).
Over the years, the Indian cricket team has seen as many as three players score the ODI double tonne. Tendulkar was followed by Virender Sehwag, who scored a double century against the West Indies in 2011.
However, if there is one player who has perfected the art of scoring 200 runs nearly at will in the 50-over format, it is Rohit Sharma. This incredible achievement has been accomplished by the Mumbai batsmen.
His first two double centuries occurred against Sri Lanka, while his third game was against the all-powerful Australians. Rohit Sharma's undefeated 264-run ODI double century remains the greatest total in ODI history.
There was a time when achieving a double century in a One Day International (ODI) match seemed impossible. However, Belinda Clark of Australia was the first to achieve this record, scoring 229* runs against Denmark on December 16, 1997.
In 2010, Sachin Tendulkar became the first male cricketer to reach a double century (200*) in an ODI against South Africa.
So far, 10 cricketers have made 10 double centuries in one-day internationals, including three Indian batters. Rohit Sharma is the only player in ODI history to have achieved three double centuries.
The fastest ODI centuries are listed here:
31 balls by AB de Villiers against West Indies (January 2015). A century in an ODI is the fastest in history, with AB de Villiers reaching his century in 31 deliveries. De Villiers scored 149 runs in 44 balls at a rate of 338.63 against the West Indies at the Wanderers Stadium. On his way to the record, the talismanic batsman hit 16 sixes and nine fours, while collaborating with Hashim Amla for 192 runs. AB de Villiers scored a record-breaking century as the Proteas put together an ODI total of 439/2, the fourth-highest in history. Windies ended up losing by 148 runs because it was difficult to defeat the mammoth total.
In January 2014, Corey Anderson faced 36 balls against West Indies. The record for fastest ODI century was held by New Zealander Corey Anderson before AB de Villiers moved up to the top spot. At Queenstown, Anderson reached his ton in 36 deliveries, again on the receiving end for the West Indies. In their 191-run partnership, Anderson and Jesse Ryder added 131 runs, with Anderson finishing unbeaten on 131 from 47 balls at a rate of 278.72. The Kiwis broke the Windies' resistance by scoring 283 and beating them by 159 runs.
37 balls – Shahid Afridi vs Sri Lanka in 1996. Shahid Afridi had the fastest ODI century ever scored against Sri Lanka in 1996, and it was the first for almost 18 years. He had never batted in an international match before. A feisty all-rounder, Saeed Anwar set up a 126-run partnership with No. 3 Azam at the KCA Centenary Tournament in Nairobi. Afridi hit six fours and 11 sixes during a blitz of 37 balls at a strike rate of 255 as he scored a ton. In doing so, Pakistan scored 371 and defeated its subcontinental rivals by 82 runs after losing his wicket after completing his century.
Mark Boucher (September 2006). South Africa's golden generation was led by one of the most formidable batsmen in history, Mark Boucher, who made one century in his career. When the wicketkeeper-batsman faced Zimbabwe, he managed to reach the milestone in 44 balls.
In October 1999, Brian Lara played 45 balls against Bangladesh. Former West Indies captain Brian Lara was a prolific run-scorer, be it in Tests or ODIs. In the second ODI of the West Indies tour of Bangladesh, he hit a quickfire century, which broke the record for most runs in Test cricket twice. The legendary batsman reached his century in 45 deliveries, and lost his wicket at 117 off 62 deliveries, scoring at a rate of 188.70. It was his 18 fours and four sixes that helped the side reach 314, ultimately winning by 109 runs.